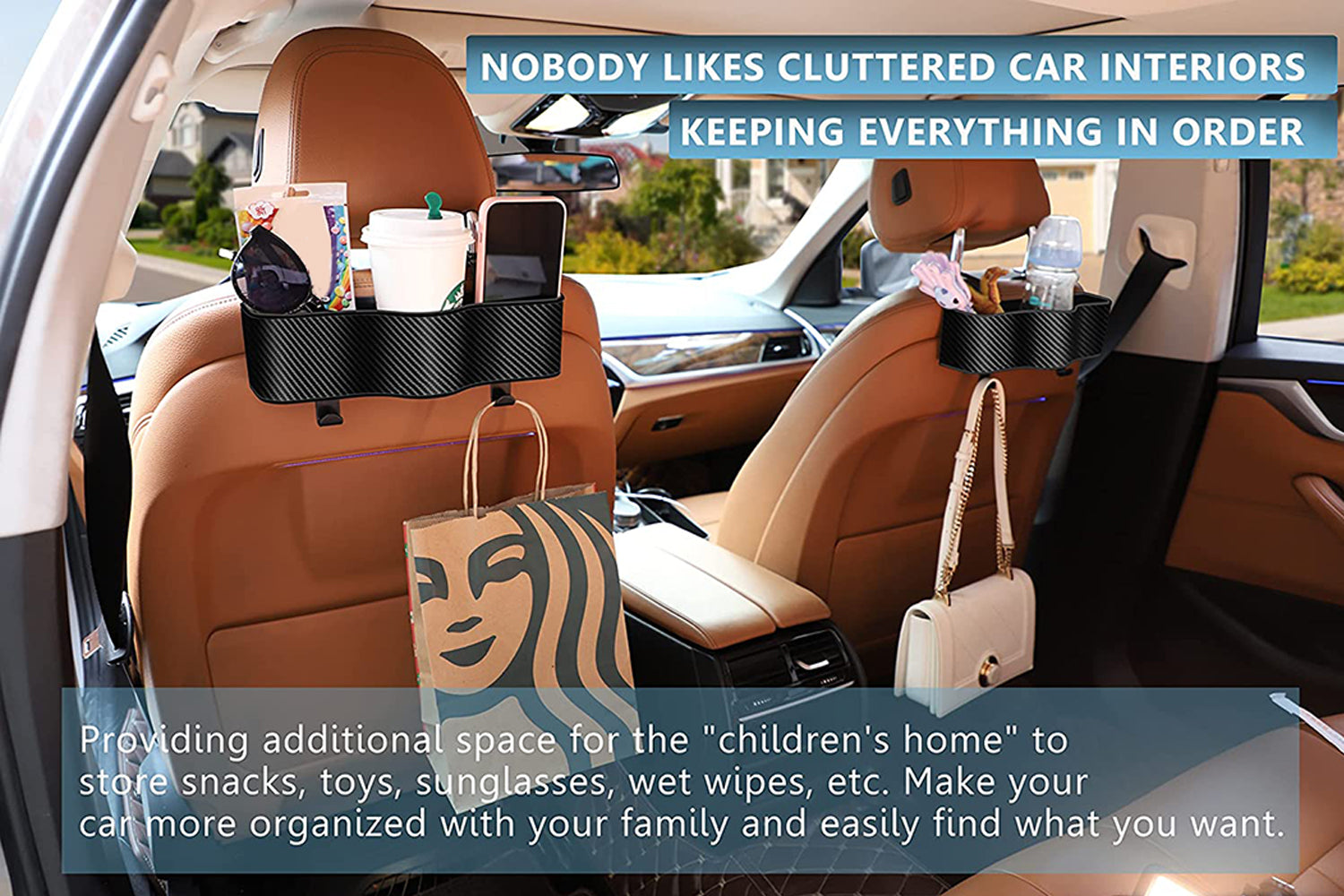 Car Headrest Backseat Organizer with Cup Holders, Custom For Your Cars, Seat Back Organizer Perfect for Eating in Your Car, Back Seat Organizer for Kids, Car Food Table or Sauce Holder, Car Accessories MB11994
Sale price

$37.99 USD
Regular price
(/)
Orders can be cancelled or modified within 24 hours after being placed.
* Perfect Companion for Your Road Trip - Do your kids consume food while riding in the backseat? And no storage for snacks? We've all experienced these circumstances. For storage, this seatback organizer is ideal for travelers, especially children. It is ideal for letting kids place objects and snacks wherever they choose. A useful supplementary container for keeping stuff you need with you on a lengthy journey. essentials for taking kids on the road.

* Carbon Fiber Printing Backseat Car Organizer - The abs plastic backseat cup holder for the automobile is printed with carbon fiber to give it the appearance of a genuine carbon fiber cup holder. The black, high-quality, heavy-duty plastic cup holder for the rear seat of a car is intended to last. It is impervious to breaking, slipping, bending, and scratching. Items can be kept from slipping and rattling by using padding made of flocking. Bottom charging hole for the reserve. great for usage on road trips.

* Family-Friendly Design and Driving Safety - Nobody enjoys seeing a car interior that is disorganized. Your back seat space, floor space, and legroom will instantly gain a vast storage space with the JELOVA vehicle backseat organizer with cup holder, giving you more area for the "children's house" to store food, toys, sunglasses, wet wipes, and other items. With the help of your family, organize your automobile so that you can quickly locate what you need.

* Perfect Size back seat organizers and storage - Most vehicles may use our backseat car organizer. Without removing the headrest or using additional tools, these car seat organizers with cup holders are simple to install. (The package contains two hooks. The short hook is appropriate for automobiles, while the extended hook is ideal for SUVs.) installation without destruction. There is no discomfort while seated in the front seats, and you won't feel the automobile hook. It keeps the automobile orderly and spotless.
Car Headrest Backseat Organizer with Cup Holders, Custom For Your Cars, Seat Back Organizer Perfect for Eating in Your Car, Back Seat Organizer for Kids, Car Food Table or Sauce Holder, Car Accessories MB11994
Sale price

$37.99 USD
Regular price
Choose options